Product Summary
The SHL-W255 is a 10A Subminiature Enclosed Switch.
Parametrics
SHL-W255 general specifications: (1)Category:Switches; (2)Mounting Type:Chassis Mount; (3)Termination Style:Cable Leads; (4)Actuator Type:Lever, Roller; (5)Operating Force:400gf; (6)Switch Function:On-Mom; (7)Circuit:SPDT; (8)Contact Rating @ Voltage:10A @ 125VAC; (9)Lead Free Status:Lead Free; (10)RoHS Status:RoHS Compliant.
Features
SHL-W255 features: (1)Coil-spring switch housed in rigid zinc diecast alloy boasts long life and high precision; (2)Requires nearly the same operating force as a conventional precision switch(0.53 to 0.88lbf); (3)Molded terminal model is available; (4)UL, CSA and/or EN (IEC) approvals; (5)Operation-indicator models are available.
Diagrams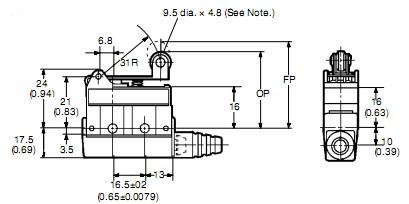 Image
Part No
Mfg
Description
Pricing
(USD)
Quantity

SHL-W255

Omron Industrial

Basic / Snap Action / Limit Switches LIMIT SWITCH

Data Sheet



| | |
| --- | --- |
| 0-1: | $42.65 |
| 1-25: | $38.78 |
| 25-50: | $35.56 |
| 50-100: | $32.81 |


SHL-W255-01

Omron Industrial

Basic / Snap Action / Limit Switches LIMIT SWITCH

Data Sheet



| | |
| --- | --- |
| 0-1: | $32.22 |
| 1-10: | $29.30 |
| 10-25: | $26.86 |
| 25-50: | $24.79 |


SHL-W255-L4MR SFLEX 3M

Omron Industrial

Basic / Snap Action / Limit Switches LS S-HNG RLR LVR W LED

Data Sheet



| | |
| --- | --- |
| 0-1: | $59.71 |
| 1-10: | $54.29 |
| 10-25: | $49.76 |
| 25-50: | $45.94 |


SHL-W255-L6MD11T

Omron Industrial

Basic / Snap Action / Limit Switches Encl.LS S hng rlr lv r w/LEDcbl

Data Sheet



| | |
| --- | --- |
| 0-1: | $90.05 |
| 1-10: | $81.87 |
| 10-25: | $75.05 |
| 25-50: | $69.27 |


SHL-W255-L6MD11

Omron Industrial

Basic / Snap Action / Limit Switches LIMIT SWITCH

Data Sheet



| | |
| --- | --- |
| 0-1: | $104.27 |
| 1-10: | $94.80 |
| 10-25: | $86.90 |
| 25-50: | $80.21 |


SHL-W255-L6MD7 3.0M

Omron Industrial

Basic / Snap Action / Limit Switches LS S HNG RLR LV R W/LED

Data Sheet



| | |
| --- | --- |
| 0-1: | $123.23 |
| 1-10: | $112.04 |
| 10-25: | $102.70 |
| 25-50: | $94.80 |


SHL-W255-MR VCTF 1M

Omron Industrial

Basic / Snap Action / Limit Switches Limit Switch

Data Sheet



| | |
| --- | --- |
| 0-1: | $42.65 |
| 1-10: | $38.78 |
| 10-25: | $35.55 |
| 25-50: | $32.81 |


SHL-W255-MD

Omron Industrial

Basic / Snap Action / Limit Switches LIMIT SWITCH (V CTF-3M)

Data Sheet



| | |
| --- | --- |
| 0-1: | $52.13 |
| 1-10: | $47.39 |
| 10-25: | $43.44 |
| 25-50: | $40.10 |