Product Summary
The FQA65N20 is an N-Channel enhancement mode power field effect transistor. It is produced using Fairchild proprietary, planar stripe, DMOS technology. This advanced technology has been especially tailored to minimize on-state resistance, provide superior switching performance, and withstand high energy pulse in the avalanche and commutation mode. The FQA65N20 is well suited for high efficiency switching DC/DC converters, switch mode power supply, DC-AC converters for uninterrupted power supply, motor control.
Parametrics
FQA65N20 absolute maximum ratings: (1)VDSS Drain-Source Voltage: 200 V; (2)ID Drain Current - Continuous (TC = 25℃): 65 A; - Continuous (TC = 100℃): 41 A; (3)IDM Drain Current - Pulsed: 260 A; (4)VGSS Gate-Source Voltage: ±30 V; (5)EAS Single Pulsed Avalanche Energy: 1010 mJ; (6)IAR Avalanche Current: 65 A; (7)EAR Repetitive Avalanche Energy: 31 mJ; (8)dv/dt Peak Diode Recovery dv/dt: 5.5 V/ns; (9)PD Power Dissipation (TC = 25℃): 310 W; - Derate above 25℃: 2.5 W/℃; (10)TJ, TSTG Operating and Storage Temperature Range: -55 to +150 ℃; (11)TL Maximum lead temperature for soldering purposes, 1/8 from case for 5 seconds: 300 ℃.
Features
FQA65N20 features: (1)65A, 200V, RDS(on) = 0.032Ω@VGS = 10 V; (2)Low gate charge ( typical 170 nC); (3)Low Crss ( typical 90 pF); (4)Fast switching; (5)100% avalanche tested; (6)Improved dv/dt capability.
Diagrams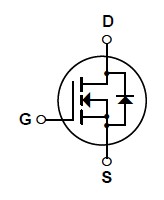 Image
Part No
Mfg
Description
Pricing
(USD)
Quantity

FQA65N20

Fairchild Semiconductor

MOSFET 200V N-Channel QFET

Data Sheet



| | |
| --- | --- |
| 0-220: | $2.46 |
| 220-250: | $2.22 |
| 250-500: | $1.99 |
| 500-1000: | $1.68 |

Image
Part No
Mfg
Description
Pricing
(USD)
Quantity

FQA62N25C

Fairchild Semiconductor

MOSFET 250V N-Channel Adv Q-FET C-Series

Data Sheet



| | |
| --- | --- |
| 0-1: | $3.47 |
| 1-25: | $2.79 |
| 25-100: | $2.51 |
| 100-250: | $2.27 |


FQA65N06

Fairchild Semiconductor

MOSFET N-CH/60V/72A/0.016OHM

Data Sheet

Negotiable

FQA65N20

Fairchild Semiconductor

MOSFET 200V N-Channel QFET

Data Sheet



| | |
| --- | --- |
| 0-220: | $2.46 |
| 220-250: | $2.22 |
| 250-500: | $1.99 |
| 500-1000: | $1.68 |


FQA6N70

Fairchild Semiconductor

MOSFET 700V N-Channel QFET

Data Sheet



| | |
| --- | --- |
| 0-1: | $2.09 |
| 1-25: | $1.75 |
| 25-100: | $1.25 |
| 100-250: | $1.01 |


FQA6N80

Fairchild Semiconductor

MOSFET 800V N-Channel QFET

Data Sheet

Negotiable

FQA6N80_F109

Fairchild Semiconductor

MOSFET 800V N-Channel QFET

Data Sheet

Negotiable